VIETNAM-BASED REAL ESTATE DEVELOPER COMMITS TO SUSTAINABILITY THROUGH THE USE OF EDGE AND OTHER GLOBAL BENCHMARKS
"EZLand Vietnam is proud to become an EDGE Champion – a pioneer in green affordable housing through the use of EDGE and other global sustainability benchmarks. Source: EDGE Buildings website"

As a developing country, Vietnam is experiencing strong economic development, expecting to earn a 6.5% GDP growth in 2021, even during the COVID-19 pandemic. However, this type of significant growth often comes at a vast environmental cost. Olivier Dung Do Ngoc, an MBA Alumni of Columbia Business School who also earned a Doctorate at Polytechnic University in Hong Kong, wanted to change that for Vietnam. In 2014, he established EZLand as a sustainable real estate developer combining a focus in sustainability and efficient design. EZLand seeks to address a market gap that has been neglected: a high quality and healthy living environment at an affordable price for the Vietnamese middle-class. While it was a steep learning curve at the beginning, the company eventually found a way to fulfill this vision and their first project proved hugely successful, as all the apartments were sold out within a week. In making the decision to develop all of its projects according to EDGE, a green building standard by IFC, EZLand now on a path to becoming an EDGE Champion, a rare commitment among the local housing developers here in Vietnam.
The challenging economic conditions of 2020 turned out to be a wake-up call for many companies. Numerous Vietnamese business owners recognized that they required serious reexamination and changes to their business model to maintain long-term viability. The non-financial intangible factors such as ESG (Environment, Social, and Governance) have now emerged as better indicators of a company's health than traditional profitability. Even the biggest asset manager in the world, BlackRock, has publicly committed to setting ESG standards and future proofing their company. For the majority of Vietnamese businesses, however, ESG is still an unfamiliar concept and environmental preservation is simply a second thought.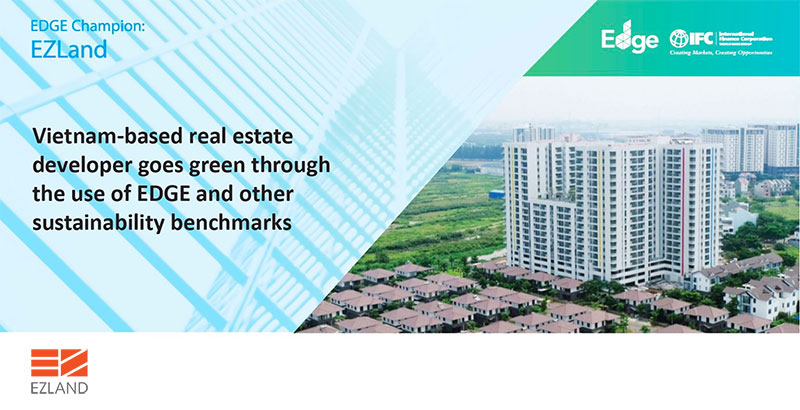 Convinced by its early success, EZLand continued to position itself differently from other competitors within the segment by adopting ESG through the framework provided by global certifications, benchmarks, and European regulations. Step by step, EZLand has built up a stronger and better sustainability-focused foundation for its operation and building portfolio by incorporating EDGE into their operations. Besides being requiring EDGE certification for all of their projects, EZLand has been GRESB-benchmarked for its performance and recently became a signatory of UNPRI for socially responsible investing (SRI). The company's next goal is to cover 10/17 UN Sustainable Development Goals and firmly establish ESG principles into the company's culture.
Through its early commitment to the environment and proven track record of social responsibility, EZLand hopes to help clear the path to inspire fellow Vietnamese businesses to rethink their duty to the environment and society. In this age of climate risk, the commitment to sustainable development must be a business imperative instead of a personal conviction.