our manifesto
We have a singular vision at EZ Land: to provide the people of Vietnam with quality housing they can afford. We combine local Vietnamese insights and expertise, European roots, and decades of global knowledge and experience to deliver housing solutions for the modern age.
Vietnam is changing rapidly. Today, it is one of the world's fastest-growing economies, with GDP growth in urban areas such as Saigon (Ho Chi Minh City) among the fastest in Asia. These demographic and economic developments have led to a shortfall in housing for Vietnam's upwardly mobile younger generation. EZ Land is addressing this shortfall through the provision of quality housing in key areas of Saigon, whileproviding a wealth of investment opportunities.
With the support of private and institutional capital, an extensive experience in the real estate and finance sectors, EZ Land aims to meet the upsurge in demand for housing while building a better future for the people of Vietnam.
Mr. Olivier,
Đỗ Ngọc Dũng
Chief Executive Officer
Olivier Dung Do Ngoc is an astute investor and an inspired entrepreneur. He received an MBA from London Business School and Columbia Business School in New York, spending 14 years with JP Morgan based across Europe and Asia.
In 2014, Olivier founded EZLand on the back of a first successful investment fund launched in 2007 working on various high-profile hospitality, real estate, venture capital and private equity projects. He honed his expertise in the development and operation of businesses in Vietnam over the last decade and during this time, forged extensive relationships within the local industry, while building his experience in local governance, tax and real estate laws.
Olivier's Vietnamese and Luxembourgish heritage gives him excellent insight into local and Western cultures, consumer behaviours and real estate markets. He is an active participant in the corporate social responsibility sector and serves on the boards of various domestic and regional companies and has a keen interest in Vietnamese art.
OUR TEAM
The EZ Land Vietnam team is composed of a diverse group of professionals, each with a wealth of experience and a proven track record in the fields of investment and real estate in Vietnam. Most of the team members have worked together for more than five years, building a strong team dynamic and corporate culture.
Through their initial projects under the Haus brand, they have demonstrated that their combined industry expertise, team cohesion and commitment to international standards result in a profound understanding of the local market – creating added value for EZ Land's customers and fund investors in the process.
Each team within the group's organisation is well-positioned to deliver on the platform provided by EZ Land and to capitalise on opportunities created by the fast rise of the urban middle class. All the while, the EZ Land management team continues to provide international investors with unique access to the Vietnamese market and its growth story.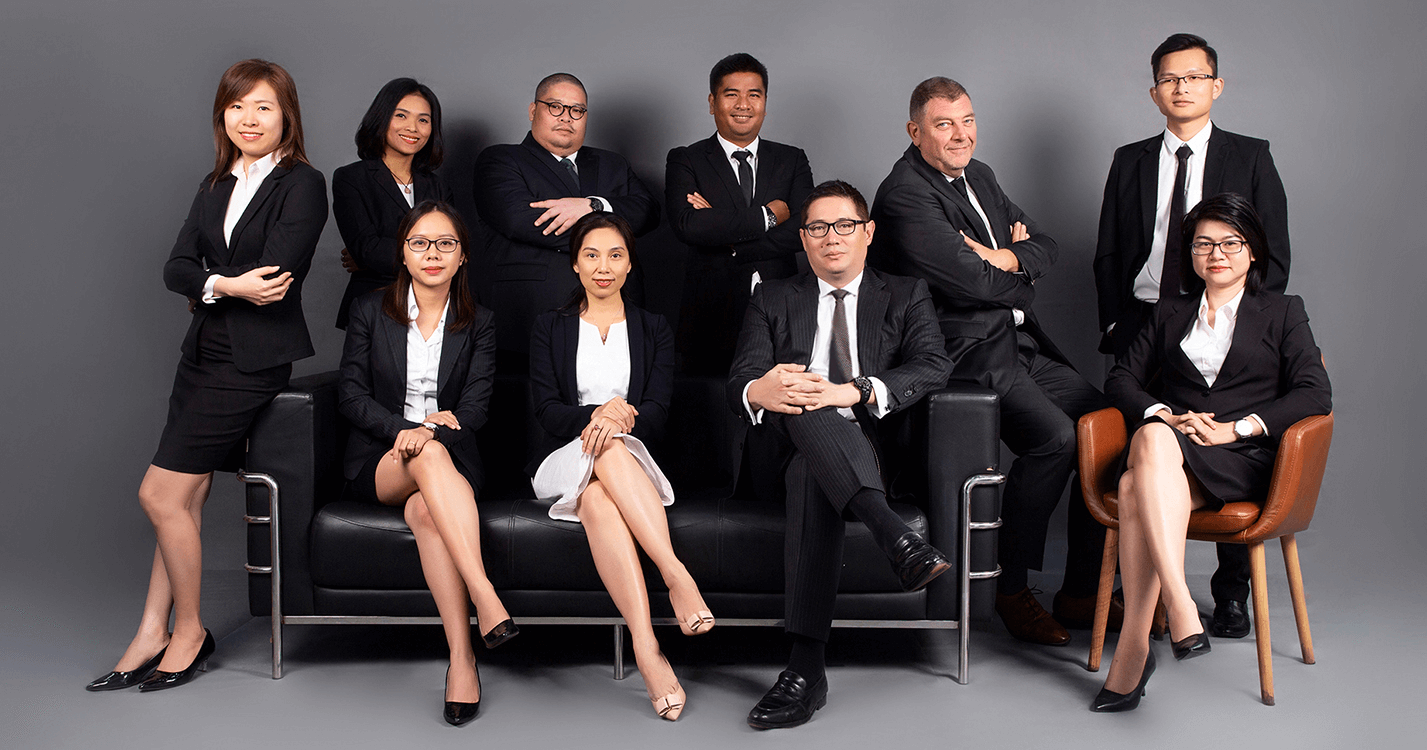 LEFT TO RIGHT, FRONT ROW:
Mr. Jacques SchellekensManager, Internal Audit and Design
Mr. Olivier Dung Do NgocCEO
Mrs. Phuong LieuManaging Director and COO
Mrs. Hang NguyenSales Director
BACK ROW:
Mr. Marco NguyenSales and Marketing Director
Ms. Ngan VoCFO
Ms. Linh NguyenInternational Sales Director
Ms. Kha PhamDirector, Investments
Mr. Giang TranHead of Legal
Mr. Duc DangProject Director
OUR VALUES
The principles that define EZ Land:
Honesty
We are a transparent, credible developer that consumers and partners can trust.
Quality
We deliver excellent, long-lasting products that offer a sound investment opportunity
Intelligence
We strive to be thoughtful in everything we do, from planning to execution.
Precision
We pay meticulous attention to detail throughout every step of the process.
TOP CONSUMER NEEDS
The top consideration when buying an apartment unit are:
AFFORDABILITY
Apartments priced from VND 1 billion – 1.7 billion (USD 44,000 – USD 75,000).
LOCATION
A maximum of 35 minutes transit time to the city.
---
SECURITY
Guards, CCTV, safe roads, child and fire safety measures.
QUALITY
Parity between what is promised and the final quality of the properties' materials and finishes.
CONVENIENCE
Good property maintenance and family-friendly facilities.
VIETNAM'S MARKET

FUNDAMENTALS

Saigon is the first Vietnamese city to be chosen for development projects by EZ Land. The city's rapidly growing population (averaging 3.9% growth per year) has already surpassed 10 million. This growth is increasing demand for apartments, with young couples and families seeking quality affordable housing in the country's most densely populated city.

Saigon is also one of the fastest growing cities in Asia in terms of GDP, with strong growth forecast for at least the next four years. Due to limited land availability in the city centre, a decentralisation trend is transforming Saigon's outer Districts, bringing improved infrastructure to these areas. New expressways, bridges, an international airport and additional Metro train lines are just some improvements coming to areas such as District 9.
PROJECTS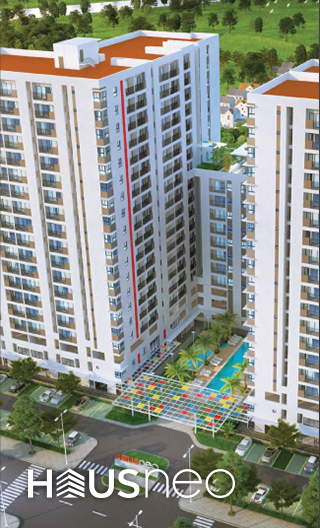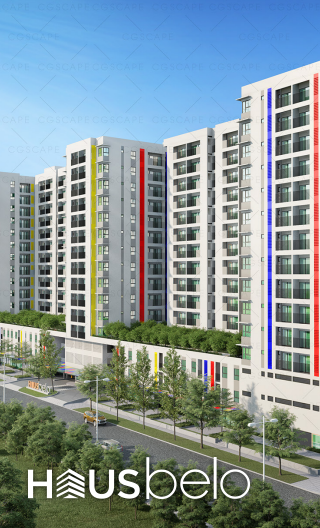 568

Units

OVER 25

Million USD

Total development budget

82.4%

Residential floor efficiency

1,700 sqm

Of green space

Featuring 568 units over 18 floors and a development budget of over USD 25 million, HausNeo boasts an impressive 82.4% residential floor efciency. State-ofthe-art facilities include a swimming pool, a communal rooftop, a kindergarten, a community room, car parking and 1,700sqm of green space.
HausNeo promotes a European-inspired lifestyle through modern, high-quality amenities. Units are designed in an intuitive, functional way to maximise space and improve quality of living, while the overall architecture of HausNeo promotes the growth of a strong neighbourhood community.
HausNeo is strategically located in Saigon's District 9, providing easy access to the airport, the central business district and the fast-growing Hi-Tech Park.
HausNeo has received the Certification EDGE offered by Word Bank. Accordingly, HausNeo reaches the average saving as 29 percent Energy, 32 percent Water and 50 percent less embodied energy in materials. These indicators are considered to be the highest in the midmarket apartment segment in HCM City.
Hausneo will be managed and operated by CBRE, the global leader in Asset Services, with over 350 million square meters of prime commercial, retail, residential and industrial real estate under management: in North America, Europe and Asia Pacific. Featuring experience in Property Management and professional team, CBRE will bring satisfaction to the residents of HausNeo.

888

Units

OVER 50

Million USD

Total Development Budget

13,333 sqm

Land Area

1,700 sqm

Green space

HausBelo offers a peaceful and carefree lifestyle – a harmonious mix of modern European style and colorful Asian culture – in a place that owners can proudly call home.
Designed for life, HausBelo is more than just a place to live –it's where moments are shared and lasting memories made. It's a cozy haven to return to at the end of each day, a personal sanctuary to enjoy with loved ones.
Additionally, buyers can enjoy peace of mind knowing that HausBelo provides full transparency throughout every stage, from construction to payment and handover.
VISION FOR GROWTH
VISION FOR GROWTH
Our vision is to deliver about 3,000-5,000 apartments per year to the market over the next three to five years, with the initial focus on Saigon. Projects will be located in the city's emerging districts, with future expansion planned across other key Vietnamese cities, such as Hanoi and Da Nang.
As demand for housing grows, whether affordable or otherwise, EZ Land has the flexibility to expand. Responsive to market needs, we can create new brands wherever demand arises, offering exciting new propositions to different market segments.
CORPORATE SOCIAL
RESPONSIBILITY
CORPORATE SOCIAL
RESPONSIBILITY
As a business that combines all the expertise necessary to generate value from property assets, we are sharing our convictions, ideas, and experience in sustainability-related issues with the entire real estate industry.
In the area of economic responsibility, we are committed to building products and innovative service offers, along with our clients and partners in an ethical and responsible manner. We aim to consistently deliver efficient and appropriate services to our clients whilst adhering to the highest standards of professional conduct.
Our community relations are based on mutual trust, respect and active partnership. We are a commercial organization: our activities are business orientated and therefore we do not intervene in political matters.
We firmly believe that we all have a responsibility to help those less fortunate than ourselves and impact our community in a positive way. By ethically and transparently providing quality affordable housing to the local market, EZ Land already plays its part in improving lives and making a positive impact on society.
Featuring more than 10 years in Vietnam, EZ Land's CEO Mr. Olivier Dung Do Ngoc has been an active participant in the corporate social responsibility sector. Follow his inspiration, EZ Land has participated in various philanthropy activities, including building the orphanage house for the ethnic children in Lam Dong, sponsoring to HPDF - Hochiminh city Peace & Development Foundation and LIN-Center for Community Development etc. Not only practicing CSR in corporate level, EZ Land employees continue to contribute through many personal trips to Lam Dong helping with the orphanage house and actively participating in the LIN programs to support the non-profit organizations in Vietnam.
WHAT WE OFFER
OUR PARTNERS
TRUST AND TRANSPARENCY
EZ Land is a credible developer and offers a relationship built on honesty.
PEACE OF MIND
EZ Land has the exclusive support of the Affordable Housing Fund, a European investment fund regulated in Luxembourg.
A GREAT PORTFOLIO
EZ Land develops with intelligence, with meticulous planning through every stage.
PROMISING RETURN ON INVESTMENT
EZ Land develops projects with a commitment to quality, focused on creating long-lasting value for investors.
PIONEERING PROJECTS
EZ Land offers Vietnam something completely new, based on market needs and thorough research. We are building a reputation as a forward-thinking, innovative provider of affordable housing that helps ensure a bright future for generations to come.