INITIAL COSTS IN GREEN APARTMENTS OFFSET LATER
Developers are moving towards sustainable development by promoting green apartment buildings but there are issues to surmount.
by Ngoc Lan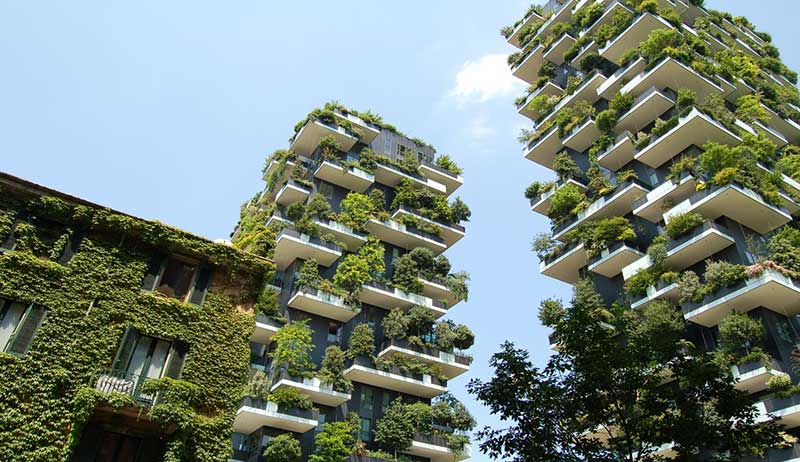 The International Finance Corporation (IFC) awarded EDGE certification to the HausNeo Apartments project developed by the EZ Land Vietnam Development JSC in August, as it met the required excellence in design for green buildings. According to Mr. Do Ngoc Dung Oliver, CEO of EZ Land, there are signs that awareness of the value of going green is increasing in Vietnam. "People are attracted by the savings they can achieve through lower utility bills and by the unique green features of EDGE-certified buildings," he said. "This EDGE certification will further help raise people's awareness and show the sustainability values of EZ Land through our first apartment project, HausNeo."
Many other developers have also joined the sustainable development movement by promoting green apartment buildings. Mr. Dang Thanh Long, Managing Director of the Vietnam Green Building Council (VGBC), said green buildings have the same basic principles in sustainable development and satisfy the human needs of today without harming future generations. "Despite the challenges, green buildings bring a lot of benefits, such as saving electricity and water costs, reducing operating costs, improving air quality and the environment, increasing comfort, contributing to environmental protection, and building a business's image," he added.
Sustainability values
There are currently two main green building certification organizations in Vietnam: LEED and Lotus, according to VGBC. The IFC's EDGE certification, meanwhile, is a building resource efficiency certification system created for emerging markets such as Vietnam, providing developers with technical solutions for going green with cost-effective and efficient designs that create affordable, environmentally-friendly buildings.
Ms. Nguyen Hoai An, Director of Research and Consulting Services at CBRE Vietnam, told VET that each rating organization has various levels of green certification. "Levels depend on the stage of construction, whether design, construction, or operational, and the complexity of the certification, with certain levels requiring certain standards in design, construction, and operations, with commensurate costs incurred," she explained. "Apartment buildings 'going green' in the future by obtaining green certification will depend on market demand, the level of appreciation among buyers and residents, and changing perceptions on costs."
Located in Ho Chi Minh City's District 9, HausNeo is comprised of a pair of 18-story blocks with 568 apartments totaling 8,289 sq m and investment of $25 million. To receive EDGE certification, the project guarantees savings of at least 20 per cent on energy and water bills, as well as on building materials, while cutting greenhouse gas emissions throughout the process, from production to destruction of materials, compared to normal constructions. "The application of green solutions in apartment buildings doesn't stop at installing and operating energy-saving devices such as solar batteries and water pump inverters but also involves meticulous research on each detail to create lasting benefits and sustainability," Mr. Olivier said.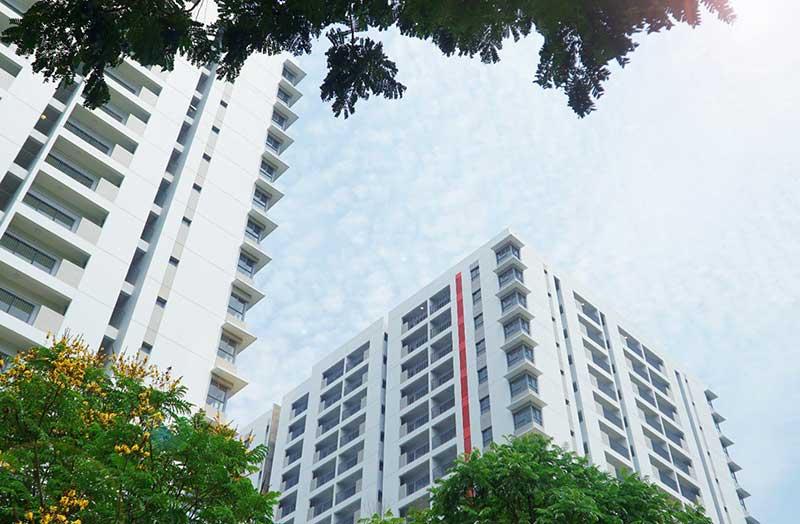 Among major developers, the Phuc Khang Corporation built the Diamond Lotus Riverside project in Ho Chi Minh City's District 8 on 16,800 sq m, with 720 green apartments meeting LEED standards. The project has trees on the balconies of each apartment, creating a huge green wall. Mr. Nguyen Minh Mau, Deputy Head of Research and Product Development at Phuc Khang, said that in order to meet the requirements of green building certification, the project had to ensure that primary criteria related to location, the efficient use of water, energy, materials and resources, indoor air quality, and operational innovation were met.
Though an apartment certified green has many standards to meet, it can't be denied that green buildings bring a host of benefits to developers and end-users alike. Through adopting EDGE-enhanced features such as reduced window-to-wall ratios, external shading devices, energy-efficient lighting, low-flow faucets, and lower embodied energy materials, HausNeo posted reductions of 28 per cent in energy, 32 per cent in water, and 45 per cent in embodied energy in materials.
Mr. Mau said that in addition to meeting the basic requirements of a regular apartment, a green apartment also provides a lot of material and spiritual values to users. He mentioned figures from the World Green Building Council showing that green apartments help reduce operating costs by 10-15 per cent and maintenance costs by 10-15 per cent, as well as energy costs. "Green apartments can also reduce the risk of disease by more than 5 per cent, improve residents' health, and cut water and energy use by 30-50 per cent, contributing to reductions in CO2 emissions," he added.
The Nam Long Group's Flora Kikyo project in Ho Chi Minh City's District 9 received EDGE certification from the IFC in 2018. Savings of 22 per cent on energy, 29 per cent on water, and 22 per cent on materials have been posted. On average, each household saves about VND180,000 ($7.7) a month on electricity and water bills. Capital House, meanwhile, received EDGE certification for its EcoLife Capitol apartments in Hanoi's Nam Tu Liem district and has saved 24.6 per cent on energy and 27.7 per cent on water costs through the use of unburnt materials and Low-e 2-layer insulated glass. The choice of a heat-resistant solution for walls facing west using XPS foam insulation combined with plaster saves up to 5 per cent of energy used for cooling the apartment compared to before application.
Mr. Mau told VET that many people now view green buildings as a trend and an indispensable stage in the urbanization process on the path towards sustainable development. "As I mentioned earlier, green buildings have a strong impact on the environment and future generations," he added.
More challenges
Only two apartment projects in Vietnam have been certified or are on track to do so by Lotus, out of a total of more than 60 projects registered, according to VGBC. As regards LEED certification, a total of 174 projects had registered as at the end of 2018, of which 54 have received full certification.
Ms. An said that advanced economies around the world have seen green buildings gain popularity for many years already, several of which have recorded strong growth in the number of certified buildings. Figures from the US Green Building Council found that, in China, more than 1,500 projects have been certified by LEED, while India, South Korea, and Taiwan (China) have had 899, 143, and 144 certified, respectively. "It is clear that Vietnam is in the very early stages of buildings going green, though a recent survey by Dodge Data & Analytics indicated that it is among countries with a high ratio of building owners (61 per cent) expecting to go green over the next three years," she noted.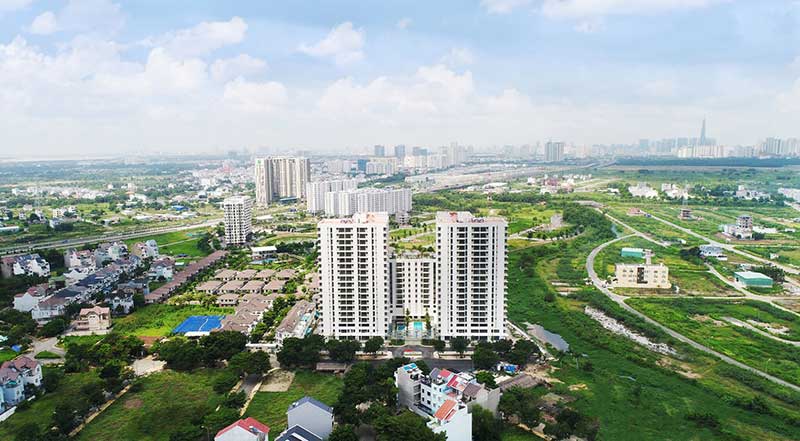 Mr. Long pointed out that the benefits of green buildings in general have been acknowledged by reports and research, but most of these benefits are found in the future and only achieved after a project is put into operation. In fact, most green building projects are now being built for branding purposes or according to a developer's general sustainable development policy, and few carefully measure the benefits at the planning stage to calculate investment efficiency.
Going green undoubtedly raises investment costs. Analysts have observed Vietnam actually has few developers building green apartment projects because the investment cost is much higher than in a normal project. For example, to meet green certification at the Silver level (used by all certifiers) or below, green buildings incur additional costs of 0.5 to 2 per cent, while achieving the Gold level comes at an additional 3-5 per cent, according to figures from VGBC.
Though green apartment buildings are increasing in number around Vietnam, opinions remain mixed about "green living space" among young Vietnamese, as they must grow plants and trees, Mr. Olivier believes. "A green solution is reflected in how residents live and how the project affects the environment," he said.
Source:https://vneconomictimes.com/article/property/initial-costs-in-green-apartments-offset-later?fbclid=IwAR15A6VfFyil8_0A2oBolRZeX-O9PwjvLx6-7Q2D8FkKEiafCoUkTvWdK2E