"GREEN BUILDING" HAUSNEO RECOGNISED FOR SUSTAINABILITY – INSIGHTS FROM THE CAMaRSEC PROJECT
On September 29, European Chamber of Commerce in Vietnam (EuroCham) co-hosted with Green Growth Sector Committee to organise a webinar entitled "Promoting Sustainability in Vietnam's Construction Sector". The webinar was aimed to highlight the potential of green building certification processes and present research results from the CAMaRSEC project. Joining in Panel discussion, Ms. Hien Minh Vuong – EZLand's ESG Associate Director was invited to share her perspective on most-interested topics related to Green Buildings.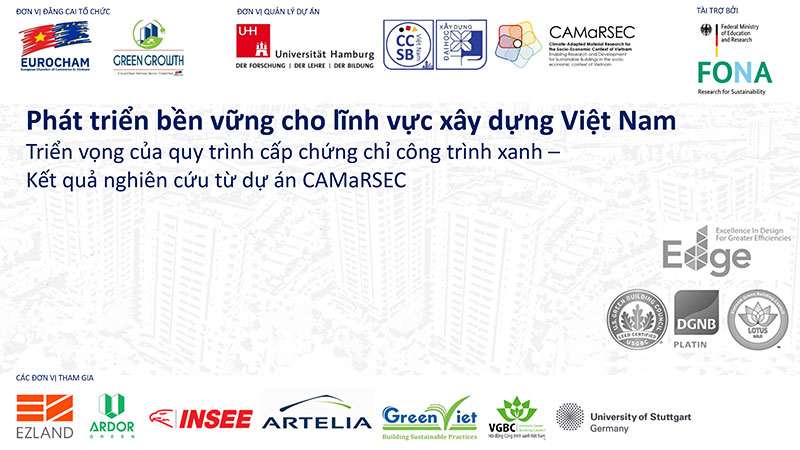 As a result of the rapid economic development in Vietnam, the lifestyles and needs of its population are changing as new types of buildings with new materials, designs and supply systems are leading to far-reaching structural and building physics-related problems to construction. In this context, the German-Vietnamese project "Climate-adapted material research for the socio-economic context in Vietnam" (or CAMaRSEC) supports the development of energy-efficient, resource-saving, sustainable construction practices. CAMaRSEC inspects five perspectives which illustrate the life cycle of residential buildings: residential context, integrated design, technical foundation, construction quality and resource utilization. This is an independent research project conducted by University of Hamburg (Germany), Vietnam Institute for Building Materials and National University of Civil Engineering; with contributions from many governmental, academic and private sector from both countries.
When studying the relevance between socio-economic conditions and sustainable buildings, CAMaRSEC carried out a sub-project to prove the operational energy efficiency among different ranges of high-rise buildings. HausNeo Apartment – the first EDGE-certified Green Building of EZLand – participated in the survey with 169 middle-income young families. Handed over in 2019, HausNeo is a Green Building apartment project that provides a strong sense of community and an environmentally-friendly lifestyle. The interview was designed based on four criteria: socio-economic conditions, habits, environmental awareness and influencing factors. When comparing with non-certified buildings, primary findings have two remarkable points (*).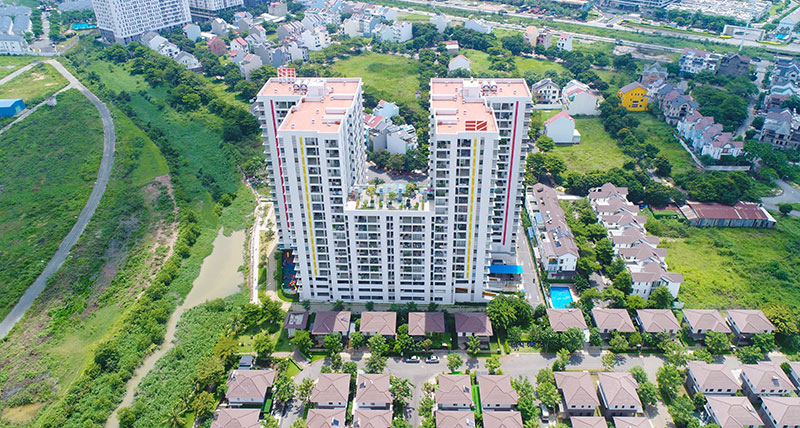 First is efficient power consumption habits. The survey showed that average monthly power consumption of a HausNeo household is 201 Kwh – the least in all other building types (averagely 346 Kwh/month/household), even less than other certified buildings (217 Kwh/month/household). More specifically, HausNeo households also consume less power per sqm– only 3,2 Kwh/sqm – so the family size might not be a decisive factor.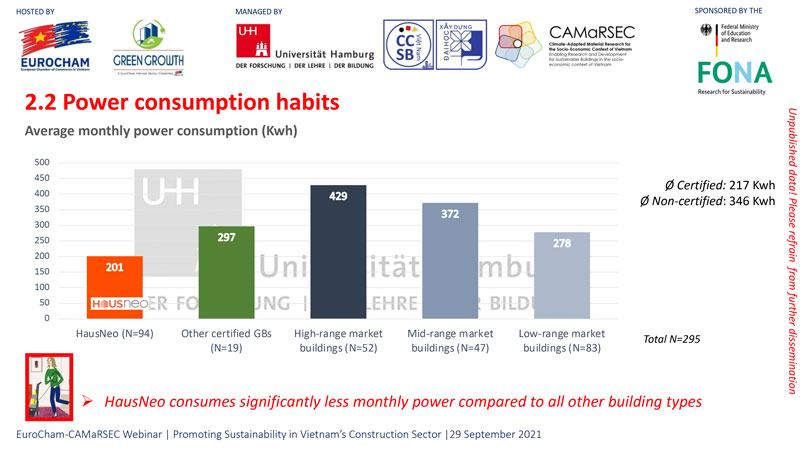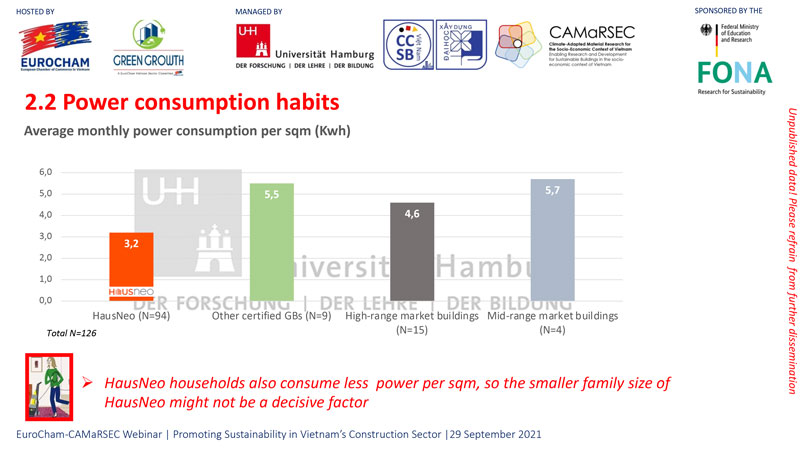 The result also illustrated that HausNeo households prefer natural cooling or using fans instead of A/C. They own more energy-efficient A/C devices labeled more than three energy stars. Therefore, from user perspective, HausNeo's residents pay 37% less for electricity compared to those living in conventional buildings.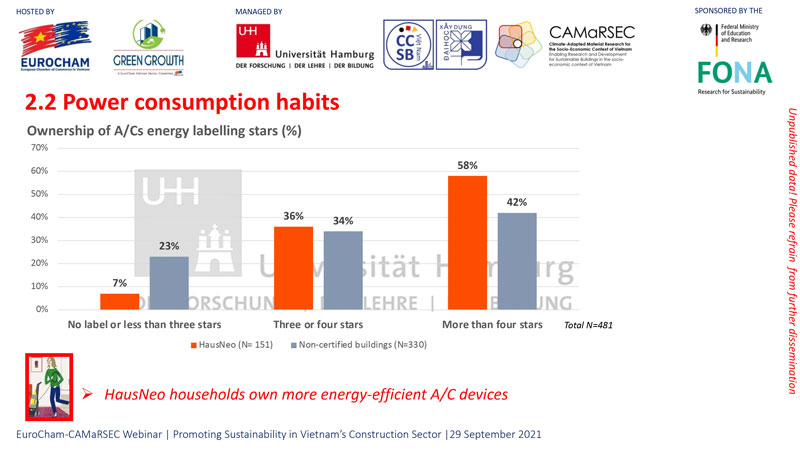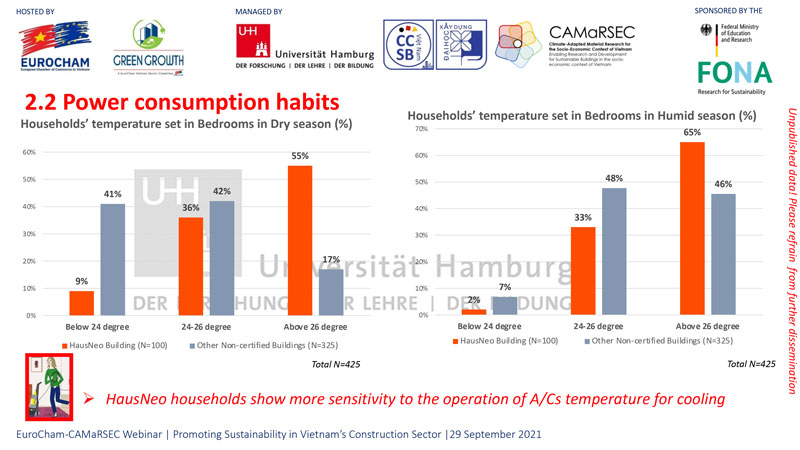 Second is better environmental awareness. Nearly 60% CAMaRSEC interviewees in HausNeo are aware of Green Building certificates. Knowledge on Green Building certification is in line with education level: College 35%, University Graduate 48% and Post-graduate 80%.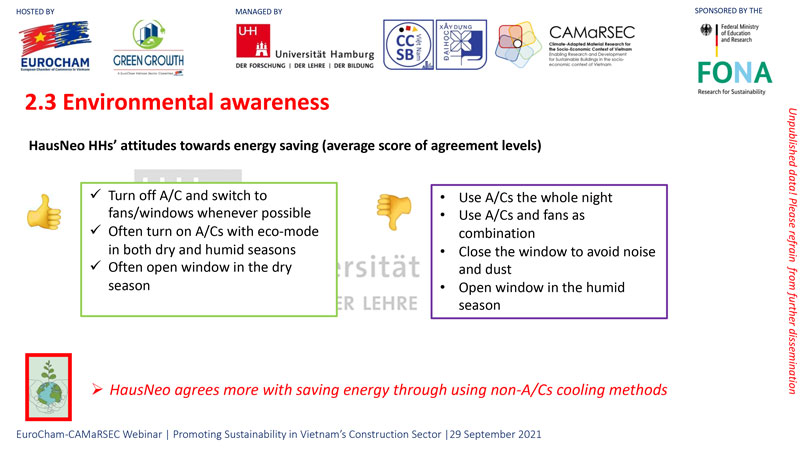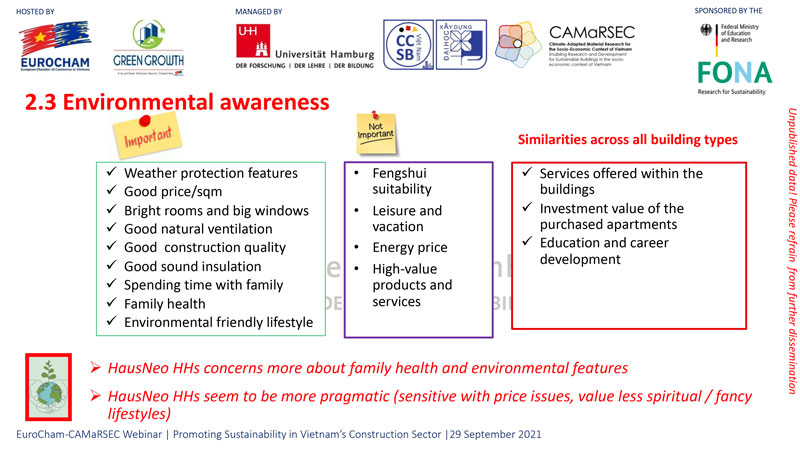 The findings showed some important similar concerns among HauNeo households as:
• Family health: natural lightning and ventilation, sound insulation
• Environmental features: good construction quality, weather protection features
• Affordable price
• Pragmatic, less spiritual/fancy lifestyles
This scientific sociological user survey from Hamburg University's CAMaRSEC project proved an energy efficiency in EZLand's HausNeo practical operation. To make it more popular, Green Building certification schemes in Vietnam need to be widely applied as trustworthy measurements for sustainability, a framework for project team and a good communication tool to exhibit environmentally-friendly lifestyles. Some of well-known certification schemes are LEED from U.S., BCA Green Mark from Singapore, LOTUS from Vietnam Green Building Council and EDGE from IFC – a member of World Bank Group.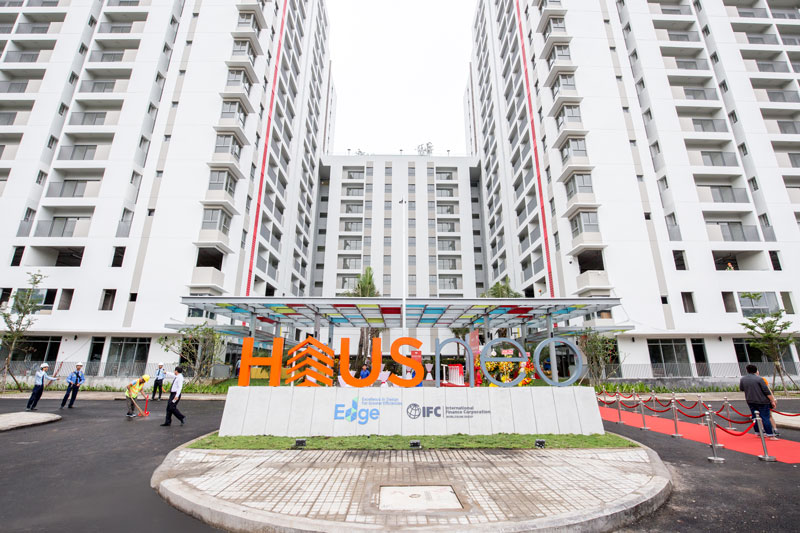 As a sustainability-driven company, EZLand commits our portfolio to being 100% EDGE-certified (20% energy efficient) with EDGE Champion. The success of HausNeo, enhancing with scientific findings from CAMaRSEC, again add more credibility to factual economical value of HausNeo, which is correct to initial assurance. Furthermore, upcoming EZLand projects will aim at higher levels such as EDGE Advanced – 40% energy efficient.
Sustainable urban transformation is a long-term process that requires all sectors to act. EZLand – having the foundation of AHF European Fund – wants to inspire other real estate developers with innovative ideas from the global energy and resource revolution in the construction industry. We are proud to have been contributed in this scientific research work to promote sustainability in Vietnam's construction sector.
(*Note: The research copyright belongs to Hamburg Universtiy. The findings are primary and need to be verified with larger samples.)