EZLANDVIETNAM SIGNS UNITED NATIONS-SUPPORTED PRINCIPLES FOR RESPONSIBLE INVESTMENT
"On 8 February 2021, EZLandVietnam has become a signatory of the United Nations-supported Principles for Responsible Investment. We are also the third signatory in Vietnam to join the leading international network of institutional investors integrating environmental, social and governance (ESG) factors into investment and ownership decisions."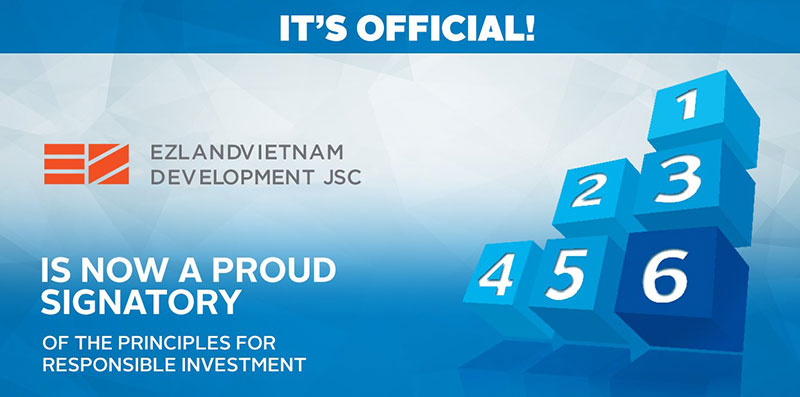 To build a better future for Vietnam, EZLand aims at sustainable development strategy from the beginning. With high transparency and lasting values, we bring a sound investment opportunity to customers, partners and investors.
In 2021, EZLand signs the United Nations-supported Principles For Responsible Investment (PRI). This is an investor initiative with a focus on understanding investment implications of ESG factors and supporting its global network of signatories in incorporating these factors into investment decision-making. Represented by more than 3,600 PRI signatories worldwide, the collective AUM has reach USD 103.4 trillion.
The six key principles are:
We will incorporate ESG issues into investment analysis and decision-making processes.
We will be active owners and incorporate ESG issues into our ownership policies and practices.
We will seek appropriate disclosure on ESG issues by the entities in which we invest.
We will promote acceptance and implementation of the principles within the investment industry.
We will work together to enhance our effectiveness in implementing the principles.
We will each report on our activities and progress towards implementing the principles.
COVID-19 is not a single crisis but rather a convergence of health, social and environmental impacts. An emerging trend revolving around socially responsible investing, or SRI, is driven by three main forces. First, ESG factors are planned by many businesses for the long-term recovery since they can affect their risk management and returns. Second, growing demands from beneficiaries for greater transparency and fraud protection. Lastly, ESG factors are becoming a crucial part of an investor's fiduciary duty.
Becoming a signatory of PRI reinforces EZLand's credentiality in the real estate market and also our commitment to the development of Vietnam's sustainable future under the role of a Corporate Citizen. To embrace PRI, EZLand will abide by six key principles and continue to uphold other ESG benchmarks.
About EZLandVietnam:
Established in 2014 and backed by Luxembourish Affordable Housing Fund (AHF), EZLandVietnam Development JSC positions its brand as a developer whose porfolio covers mid-end residential development projects, targeting first-time homebuyers who seek quality housing at suburban areas. With 3,000 – 5,000 units provided to the market each year, EZLand focuses on three essential features: thoughtful functionality, sensible price and environmental friendliness.