EZLAND IS NOW RAISING FOR 'BREATHE AGAIN VIETNAM' FUND
" On 17 August 2021, EuroCham has launched a new fundraising campaign named "Breathe Again Vietnam" during the fourth wave outbreak of COVID-19. The action is now calling for donations from the community procure much-needed medical equipment for Vietnam's hard-pressed hospitals. This is proudly initiated by EZLand and Puratos Grand-Place Vietnam, showing our determined efforts to support Vietnam."
With cases continuing to rise and healthcare professionals working around the clock to treat patients, on 17 August 2021, The European Chamber of Commerce in Vietnam (EuroCham Vietnam) has officially launched Breathe Again" Campaign in the pick moment of COVID-19 crisis. The campaign is now calling for donations from the community and EuroCham's diverse memberships – over one thousand enterprises and investors in all sectors and industries.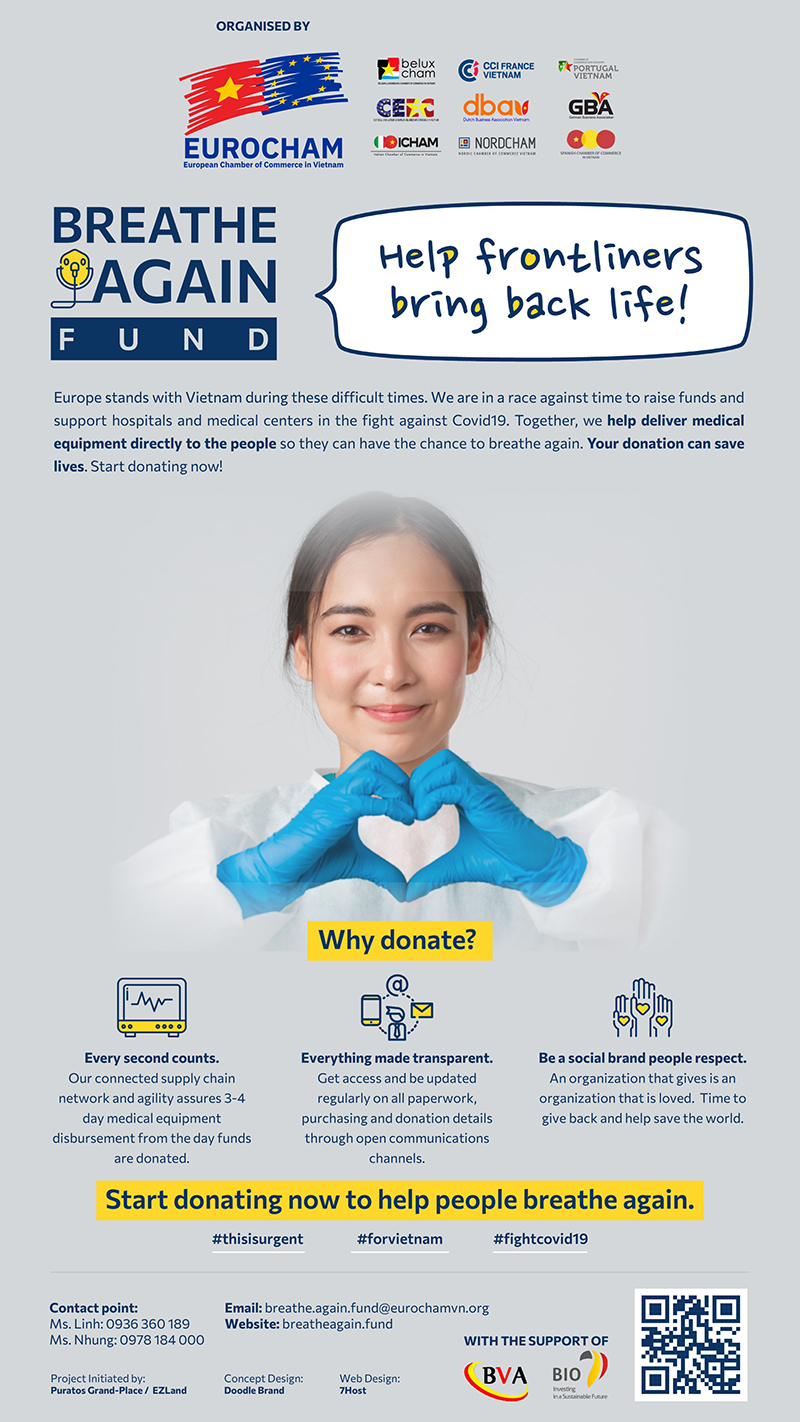 All funds donated to the "Breathe Again" campaign will be used to purchase European medical devices and equipment for the professionals working on the frontline and the patients in dire need of care. The action is about Transparency – Efficiency – Fast Pace – Impact – Visibility, EuroCham will work with suppliers to procure the equipment and ensure their quick and transparent delivery to hospitals within a few days of sufficient donations being received. Meanwhile, EuroCham will also update purchases and handover via the Fund's communication channels.
EZLand and Puratos Grand-Place Vietnam proudly initiate this fund-raising project with the leading and management from EuroCham. As an European real estate developer aiming to bring a better future for Vietnam's next generations, we are giving whatever possible to help Vietnam overcome this challenging time.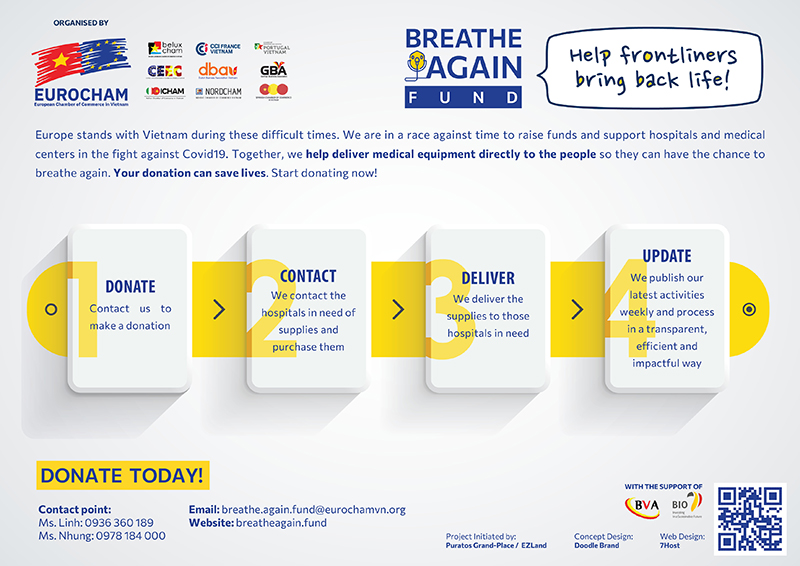 We hope to count on donations from the community to help save more lives. To donate, find out about the Fund and donation update please visit: www.breatheagain.fund or contact us on breathe.again.fund@eurochamvn.org. We are deeply grateful for your contributions. Thank you 7Host and Doodle Design for your generous support.
Read more on the press release here: https://eurochamvn.glueup.com/organization/726/campaign/92148/