EZLand continues to hand over 200 ownership certificates to Bao Minh EZland (HausNeo) residents
On 27th July, 2023, EZLand continued to hand over the next 200 ownership certificates to the Bao Minh EZLand (HausNeo) residents.
The first 20 ownership certificates were handed over to HausNeo residents on 20th October 2022.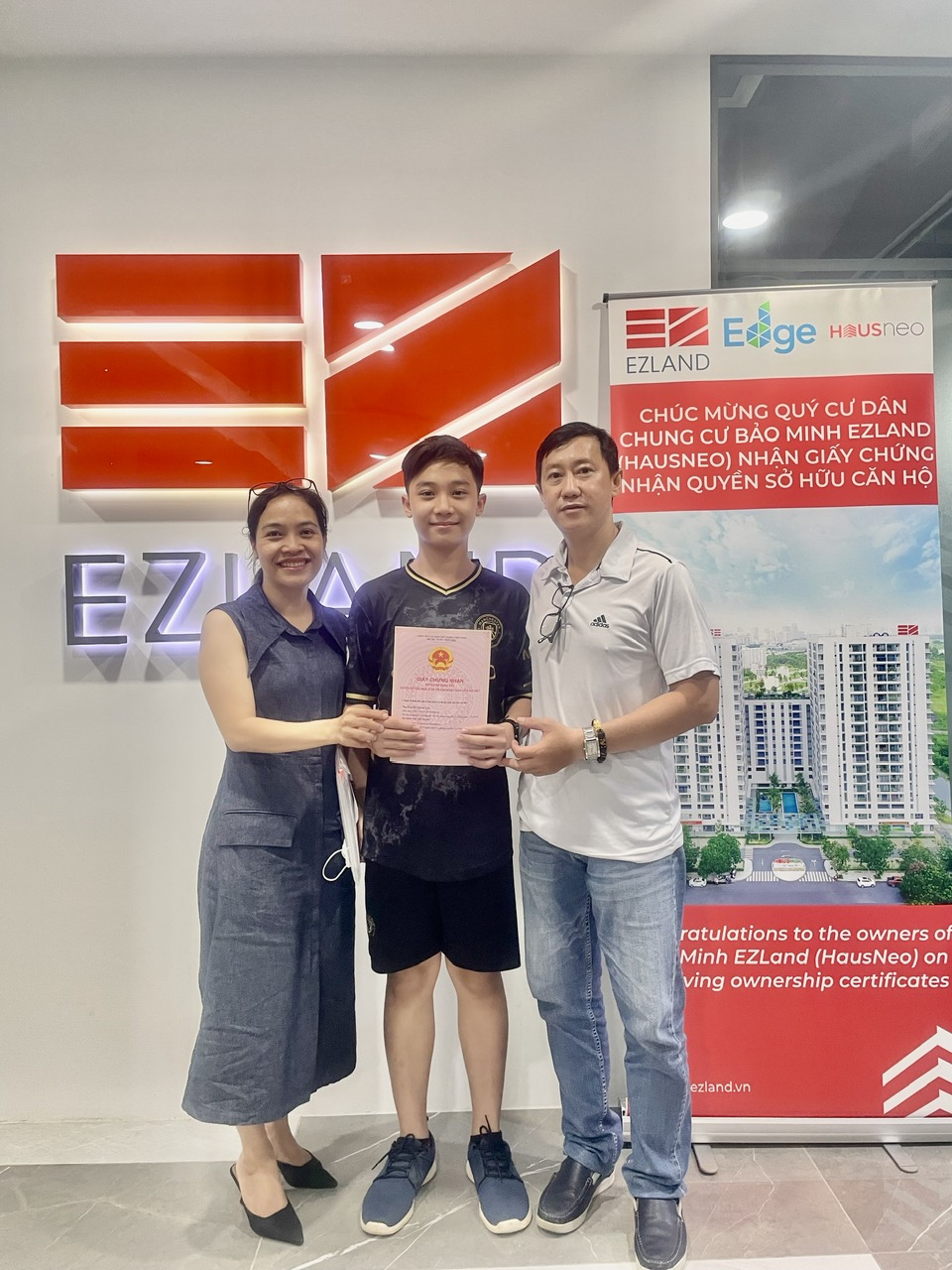 This is an important milestone for EZLand as well as for the HausNeo community and shows the continued focus and dedication of EZLand to participate in the Vietnam Real Estate Market with high customer service standards and reliability as well as a sustainable development strategy. Congratulations to the happy HausNeo owners!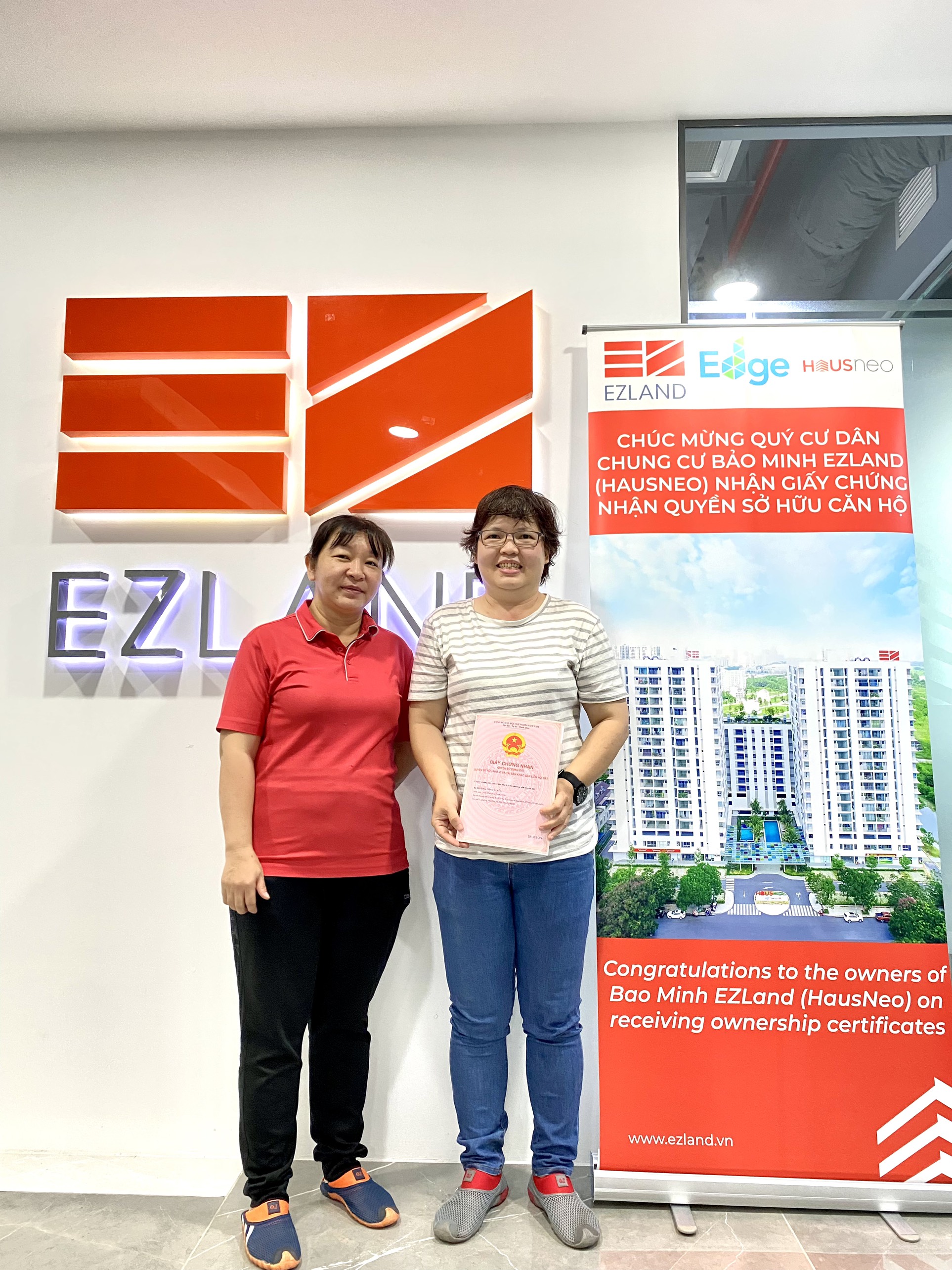 Representative of EZLand, Ms. Tran Mai Tram - Deputy Director of Customer Service Department, said that the company's legal department has tried our best in working with the authorities to complete the pink books issuing procedure for the Bao Minh EZLand residents as soon as possible. "Despite of having many difficulties, we are so pleased to completed the upcoming 220 pink books to deliver to HausNeo residents. More than 300 pink books are in final process of completing procedures, and I hope we will handover to the residents soon sin the near future." Mrs. Tram continued.
One of the customers who received the pink book in phase 2, Ms Mai shared: "After a long waiting time, I finally got the ownership certificate of the first house in Saigon. Thanks EZLand for making efforts to make it done.
"I am very happy to receive the ownership certificate for my apartment. Currently, my family is very satisfied with the living environment at HausNeo. Choosing EZLand as well as HausNeo for our living investment is still a very right choice for me." Uncle Hung is excited to share.
The HausNeo apartment project is advantageously located in District 9 in Ho Chi Minh city with 2 blocks of 18-storey building consisting of 568 apartments. At the moment, the project has an occupancy rate of 100% with residents already moving in and settling down.
The HausNeo project is equipped with standard facilities such as a playground, swimming pools for adults and children, a BBQ area, supermarkets, etc., to serve the daily needs of the residents.
Every apartment at HausNeo is carefully studied to guarantee minimalism while keeping a high aesthetic. Most HausNeo apartments have a balcony or loggia to benefit from the natural ventilation while avoiding direct sunlight.
Especially, with meeting the strict requirements of energy efficiency in designing and developing the project, HausNeo was certified by the EDGE (Excellence in Design for Greater Efficiencies) Green Building Certificate from the World Bank Group. This initiative from the World Bank Group is assessed based on the Energy, Water and Embodied energy in Materials for projects aiming to minimalize energy consumption. And when Hausneo is in operation, the project has been proved that HausNeo's residents pay 37% less for electricity compared to those living in conventional buildings ( according to the survey from the German-Vietnamese project "Climate-adapted material research for the socio-economic context in Vietnam" (or CAMaRSEC).